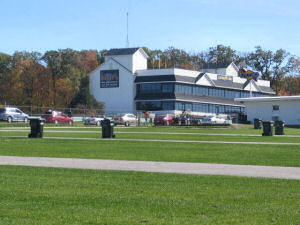 Road America 2006
On Friday, October 6th the March of Dimes and Milwaukee-area SCCA held the first annual Road America PDE (Performance Driving Experience) at Road America track in Elkhart Lake.
For $200 you were able to drive on the RA track for four 15-minute sessions, plus an included lunch and dinner. Spectators were allowed for $50 and were able to at least hitch a ride at lunchtime. Chad, Damian, Rick, and Tom all drove their vehicles, and Eric was nice enough to come along and videotape for posterity!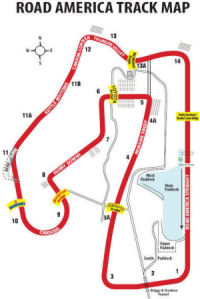 Road America is considered the premier road racing track in North America. It is over four miles long, made up of 14 turns, and features moderate elevation changes through the turns. It is in Elkhart Lake on 600+ acres of land, and is an absolutely stunning track to drive!
Road America is booked every day from April to October, and the PDE was a rare chance to drive on the track for a reasonable free, and the proceeds went to charity. This year's PDE generated over $40,000 for the March of Dimes!
The RA PDE is already scheduled for next year, and we plan on returning!
From the hour of video footage shot by Eric we have assembled a half-hour long video plus a few smaller features onto a Road America 2006 DVD. If you would like a copy of the DVD please contact us and we'll get one to you. The main video is also online in a lower quality format.
We all had an absolute blast at Road America. There were no mishaps amongst our drivers (keep the rubber side down!) although an over-enthusiastic Porsche 911 Turbo driver did manage to hit the wall in turn 11. Doh!
You can check out the following goodies: